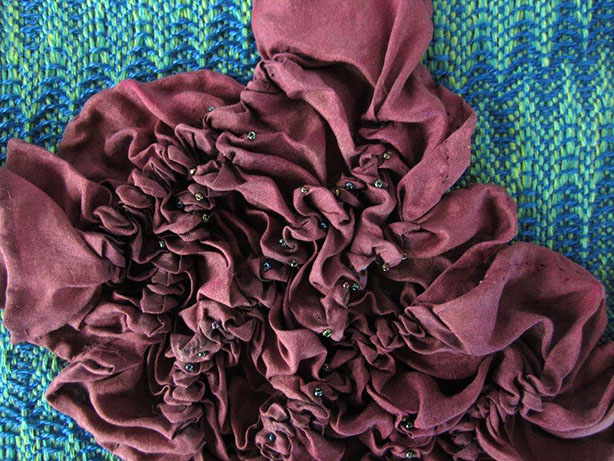 At the end of 2009 I graduated with a Diploma of Studio Textiles and Design from the Royal Melbourne Institute of Technology. During my study I established Greenweaves Textiles in Victoria, with particular emphasis on hand-dyeing silk scarves and yarn using local plants, mainly from my own garden.
By the end of the course I had decided to major in weaving. The endless possibilities of weaving fascinate me. I love seeing a piece of cloth appearing on the loom; the individuality of each piece, especially when using unique dyed yarns, is a never-ending source of pleasure.
My weaving has been selected for exhibitions in Victoria and New Zealand and is represented in the Wangaratta Art Gallery's textile collection, as well as in private collections in Australia and New Zealand.
Since moving to Nelson in 2012 I have set up a weaving studio in my home in Hope. In addition to my original four-shaft table loom, I have purchased an eight-shaft floor loom, which enables me to produce a greater variety of handwoven works.
I concentrate on producing handwoven items, but I continue to explore dyeing, especially using the traditional Shibori techniques of Japan.  I particularly enjoy Shibori fabric dyeing because of the uniqueness of each piece and the excitement of the unexpected or serendipitous result.
---
Contact Esmae