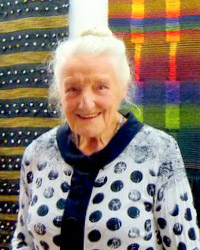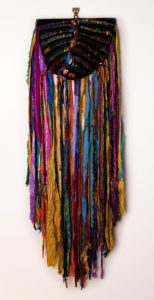 I progressed from a delightful time spinning our very special New Zealand wool when spinners were hard to find and I needed help to get going, a story in itself. About 1965 I developed the urge to become a weaver and once again it was hard to find anyone to help you get going, but I bought a table loom which I eventually had converted into a foot powered loom and I was away laughing.
And now, in 2017 and at the age of 100 years, I am still weaving every day. What is so wonderful is that the ideas still keep coming.
In recent years I have won two awards and had four exhibitions in all parts of New Zealand – you are never too old. Happy weaving to you all.
Contact Peg