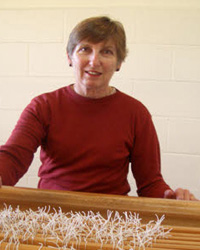 I have been very involved in weaving since the mid-1980s when I became captivated by this ancient craft. My early weaving was mostly spent designing and weaving large wall-hangings, but I decided to explore weaving and dyeing which is more practical, and that is mostly what I do currently. I am largely self-taught, but attend selected workshops and classes in more advanced techniques which expand my knowledge of weaving and dyeing. Using a weaving design computer programme has added another dimension to designing unique pieces. I am very interested in colour, with many of my works featuring hand dyeing. By stretching the boundaries of my eight-shaft, ten treadle loom, using natural fibres and the way in which fibres reflect light differently, and hand-dyeing, I strive to produce unique pieces. Inspiration for many of my works comes from the natural world and the ever-changing view from my studio over Tasman Bay and the Haven in Nelson.
I have been a member of PWN for 20 years, and held the role of convener from 2012-2015. My work is sold through FibreSpectrum Handweavers Cooperative, where I am a member, and The Suter Gallery Store, both in Nelson.
My work has been selected for many national exhibitions, and over the years has attracted awards, the most recent being the Complex Weavers Award 2014.
---
Contact Sue